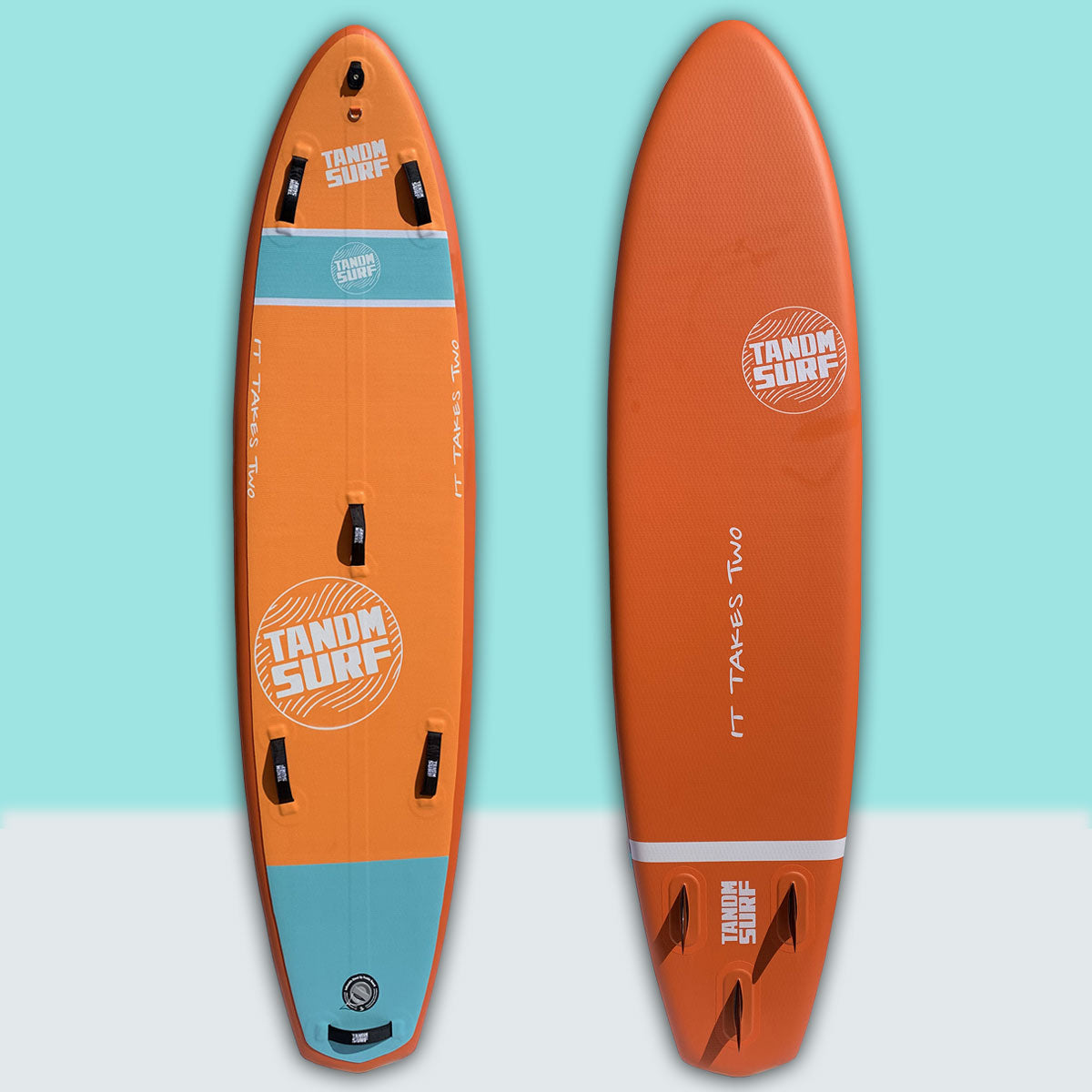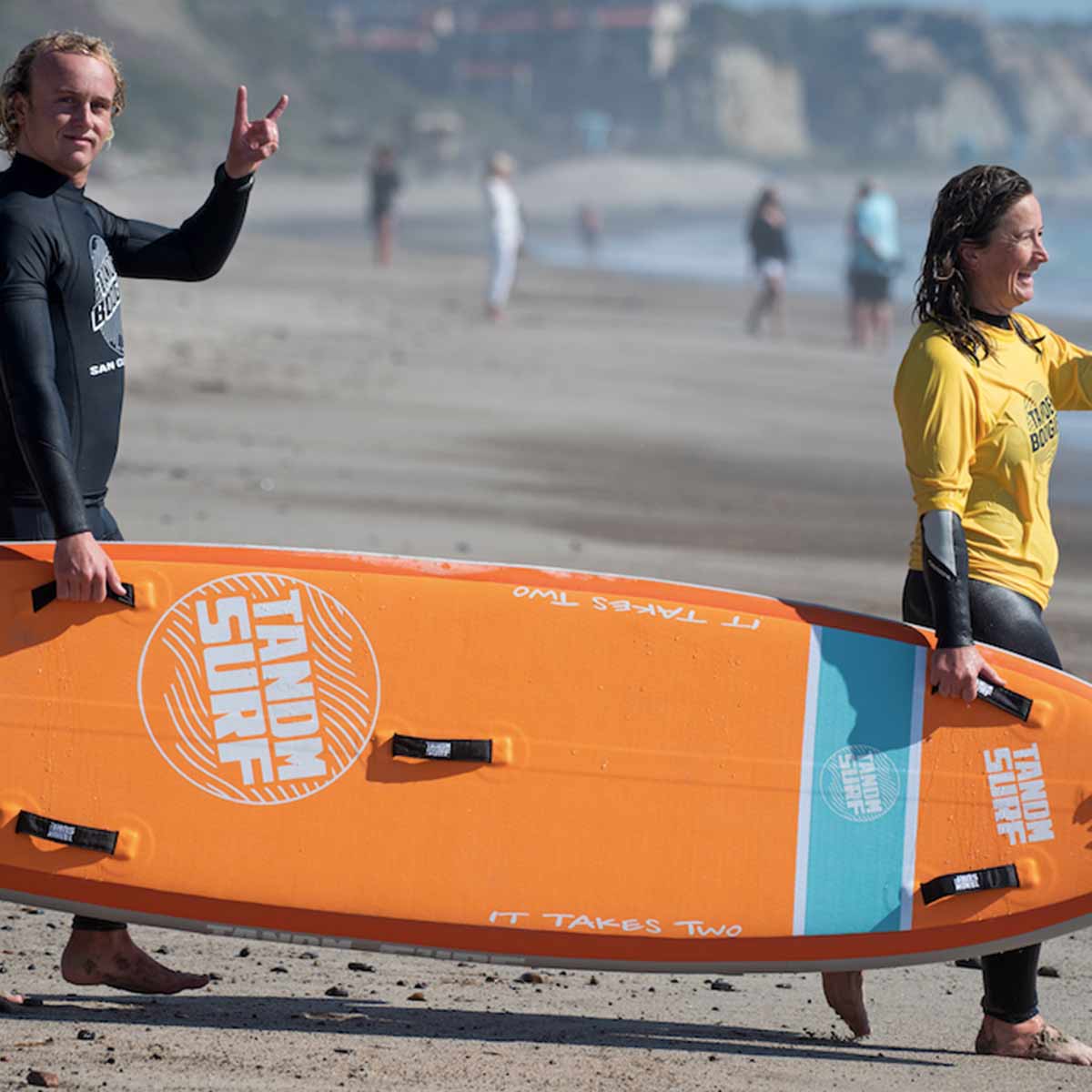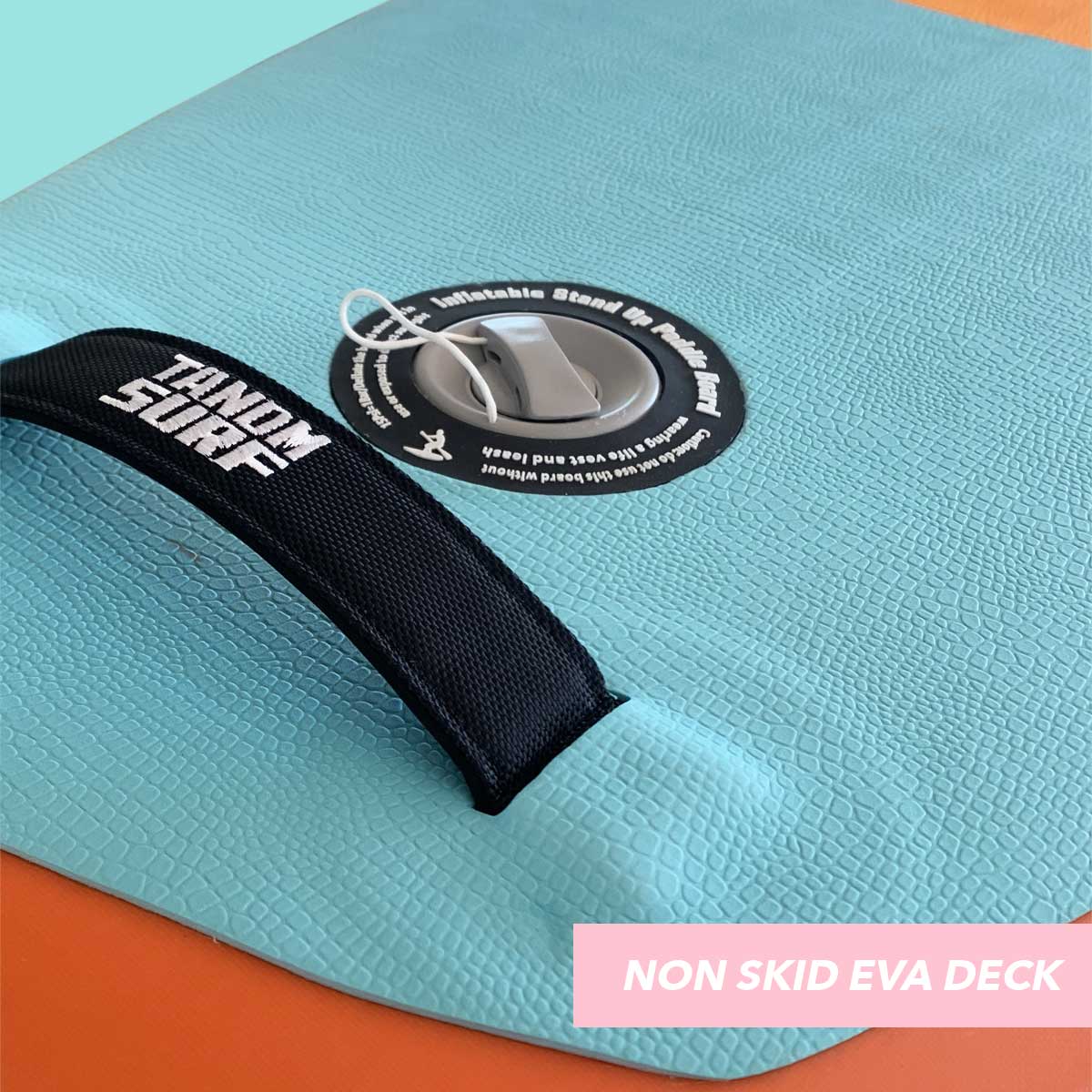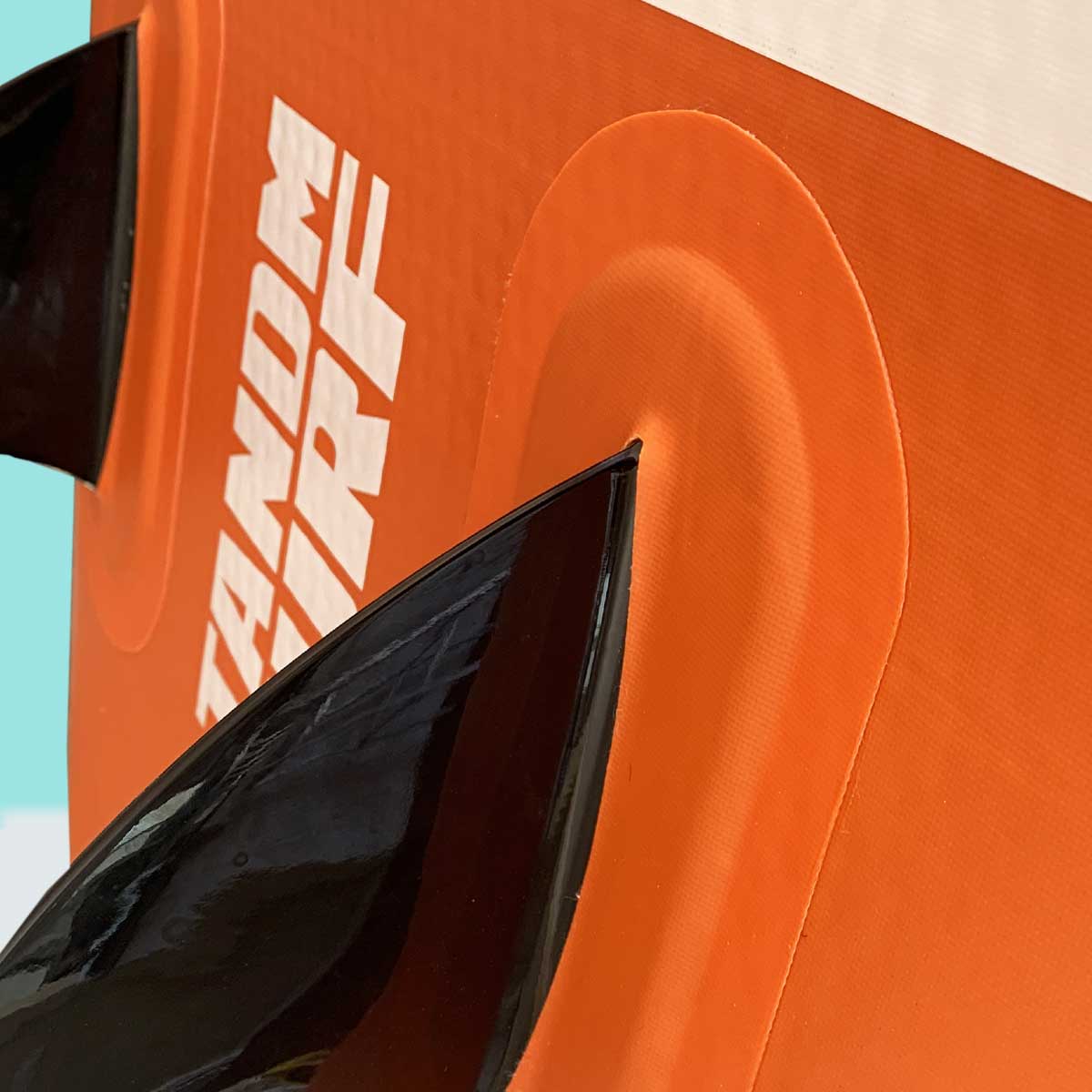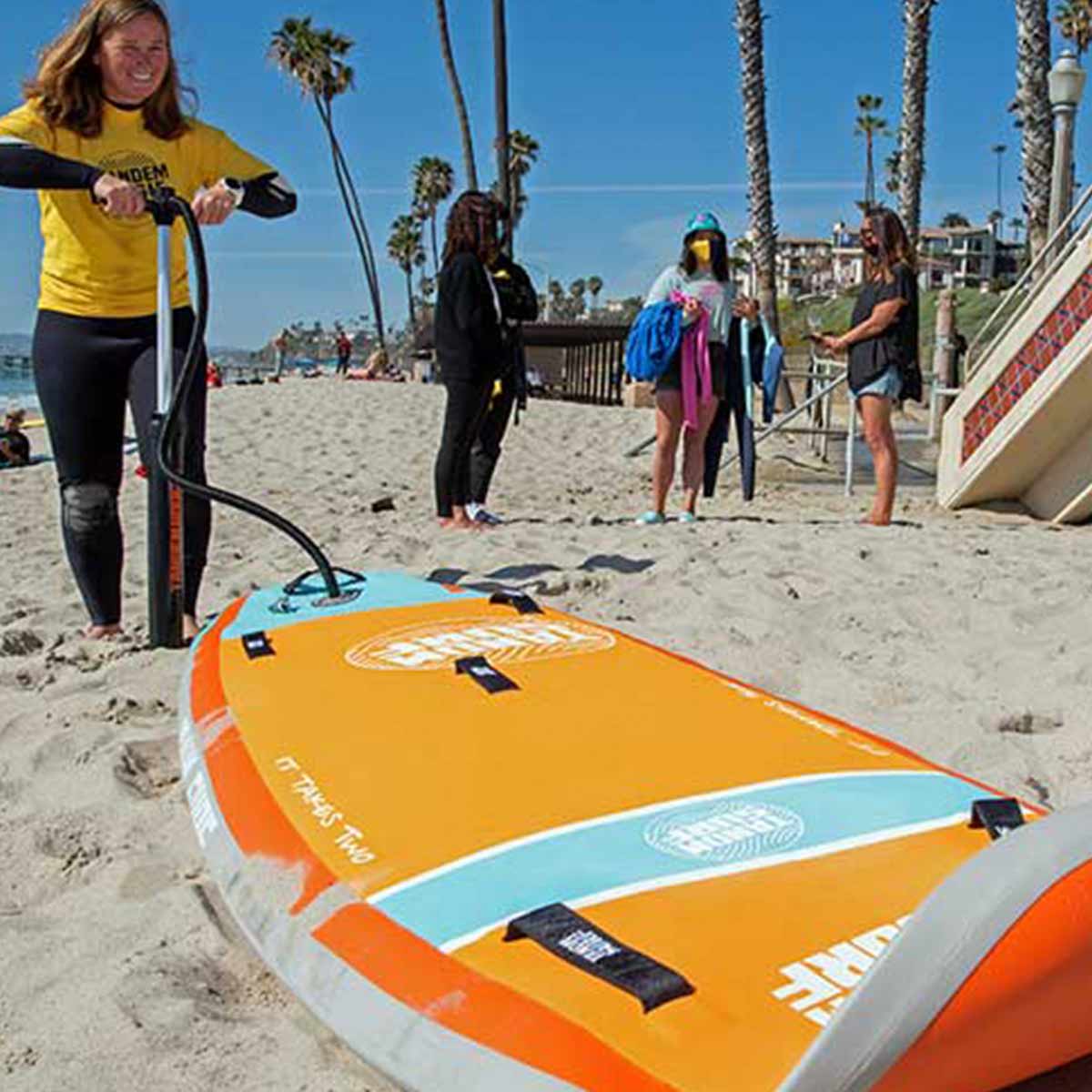 Tandem Surfboard - 9 ft x 28 x 4
Now you can learn to surf safely or with a friend, partner or instructor at the same time.  The inflatable tandem surfboard is a great solution for teaching surfing, tandem surfing, surfing with your dog and more.   It's inflatable technology allows easy storage and transport (rolls up like a yoga mat) and it included a high quality dual stage pump, bag and camera mount. 
Kids and people under 100lbs can standup paddle on this board making it the ultimate multi-use board
.   Surf it in waves, tow it behind a boat or float down the river or lake.   
TANDEM SURF FEATURES
Designed for solo or two people to surf at once but is soft/forgiving enough to avoid common surf injuries


EVA handles for learning to surf and getting over waves


Flexible "safe" fins to help tracking and provide a safe experience


EVA deck pad provides grip (Finally no surf wax mess!)


Camera mount to capture all the memories, GoPro supported


Inflatable technology provides rigid board performance

Each TANDM Surfboard comes with 3 flex-safe fins, a leash, handles, GoPro Mount, Pump and Storage Bag.
Board measures 9ft x 28 inches x 4 Inches and packs into a small lightweight carry bag for easy transportation and storage.
Inflatable surfboard for one or two people
Tandm Inflatable Surfboard
Travel light & Pump it up, no need for car racks or extra space to learn to surf. Comes with a storage back, pump and room for one or two!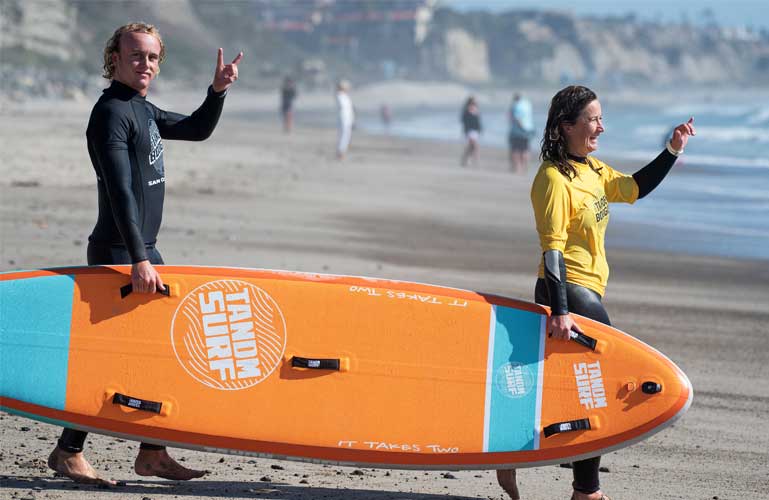 WHAT'S THE DIFFERENCE BETWEEN THE TANDEM SURF AND TANDEM BODYBOARD?
The Tandem Surfboard is long and narrow like a surfboard and designed to stand up on and surf a wave or get towed behind a boat. This board also has fins/skegs to help its ability to track and maneuver when on a wave.